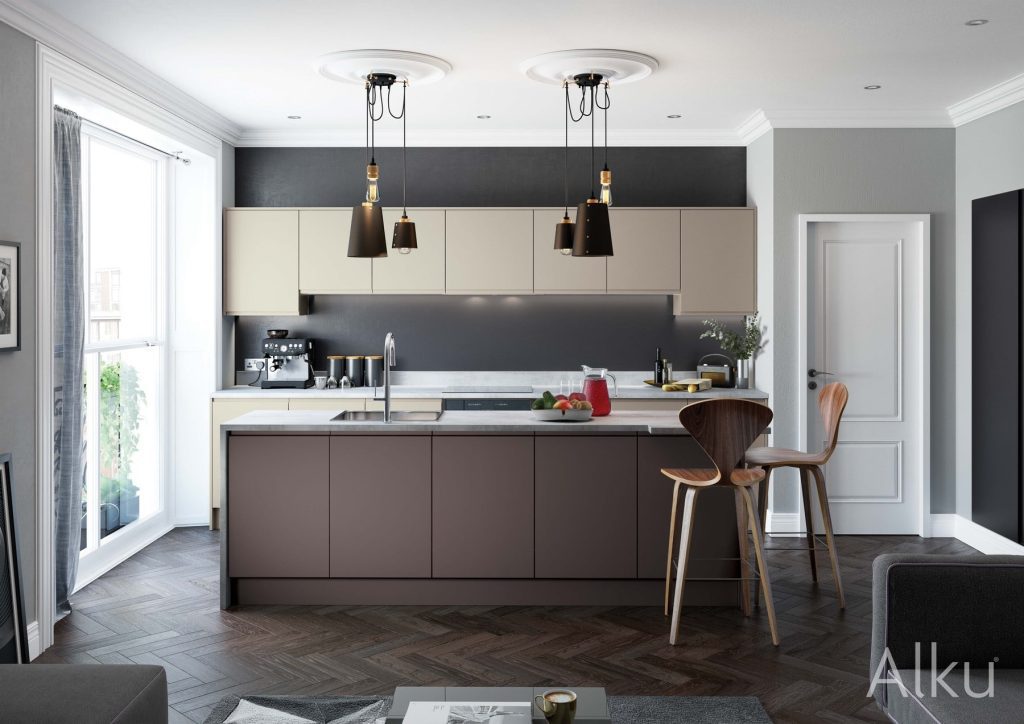 Luxury Kitchen Showroom Near Cheshire
In search of a distinguished kitchen showroom near Cheshire? Your search ends with our expert team at Rowe Fitted Interiors, located in The Wirral. Our adept kitchen designers are at the forefront of crafting custom kitchens and unique furniture in Cheshire and its neighbouring areas. Combining a keen eye for detail with a deep-rooted understanding of functional kitchen layouts, we create living areas that are not only visually stunning but also remarkably efficient. Whether you desire the timeless elegance of British kitchens or the modern sophistication of German concepts, we're committed to delivering unmatched quality, style, and impeccable client service throughout the entire process.
Why Opt for a German Kitchen in Cheshire?
German kitchens are globally renowned for their masterful craftsmanship, expert engineering, and inventive designs. They shine with a refined aesthetic, presenting the ideal blend of durability and visual allure. Choosing a German kitchen infuses your home with a contemporary and stylish feel, frequently complemented by useful accessories and smart storage solutions that create an especially user-friendly kitchen. Kitchens curated by German manufacturers are a testament to enduring worth, representing a lasting investment for your Cheshire home.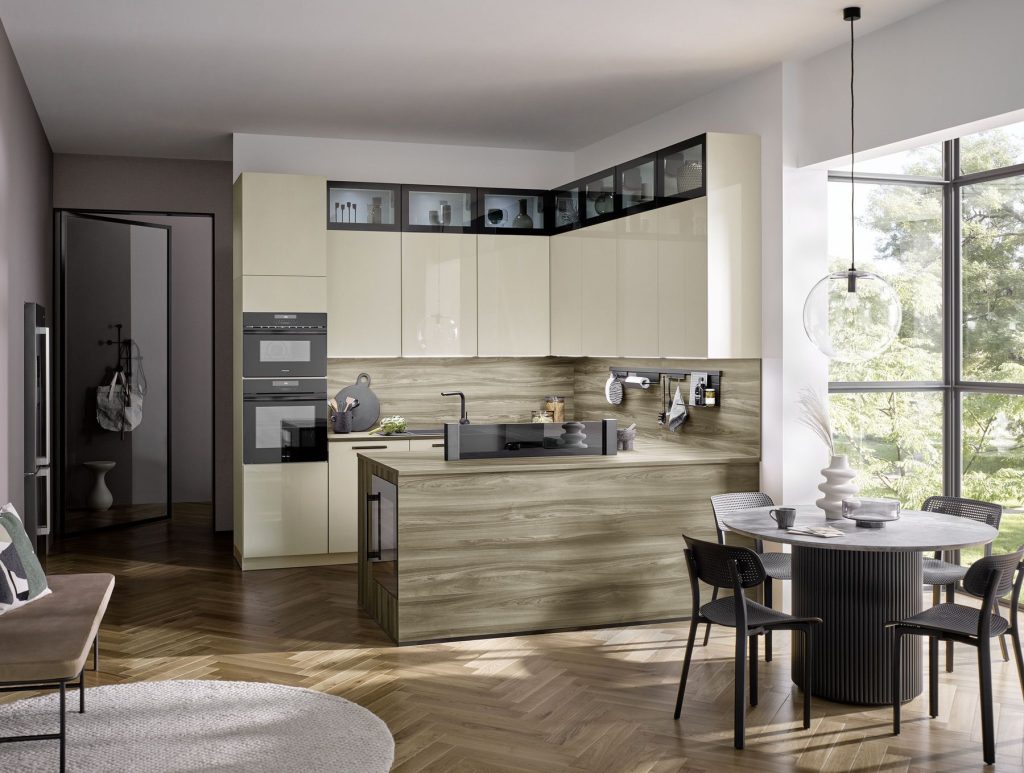 Bauformat Kitchens in Cheshire
Within our kitchen showroom near Cheshire, you'll encounter the pinnacle of German kitchen design with furniture from Bauformat. This prestigious brand is renowned for its excellent artisanship and adaptable design options, offering a vast array of kitchen styles tailored to resonate with your personal preferences. Their latest collection showcases minimalist finishes, cutting-edge kitchen appliances, and contemporary touches like handleless cabinets and integrated lighting systems. Bauformat upholds eco-friendly manufacturing practices, ensuring your chic and long-lasting German kitchen is also in line with sustainable living.
Alku British Kitchens
For those on the lookout for a quintessential British kitchen with a contemporary flair, our selection from Alku Kitchens is sure to impress. Recognised for their refined designs, personalised service, and cost-effective choices, Alku's range boasts both classic in-frame kitchens and favoured modern trends, including gloss and matt kitchen doors. Alku takes pride in their adaptability, presenting a wide array of unconventional sizes and even a bespoke paint service for those with distinct colour preferences. When you visit our kitchen showroom near Cheshire, you'll be captivated by Alku's imaginative designs, featuring examples of custom-made larder storage and ingenious pocket door systems to enhance your kitchen experience.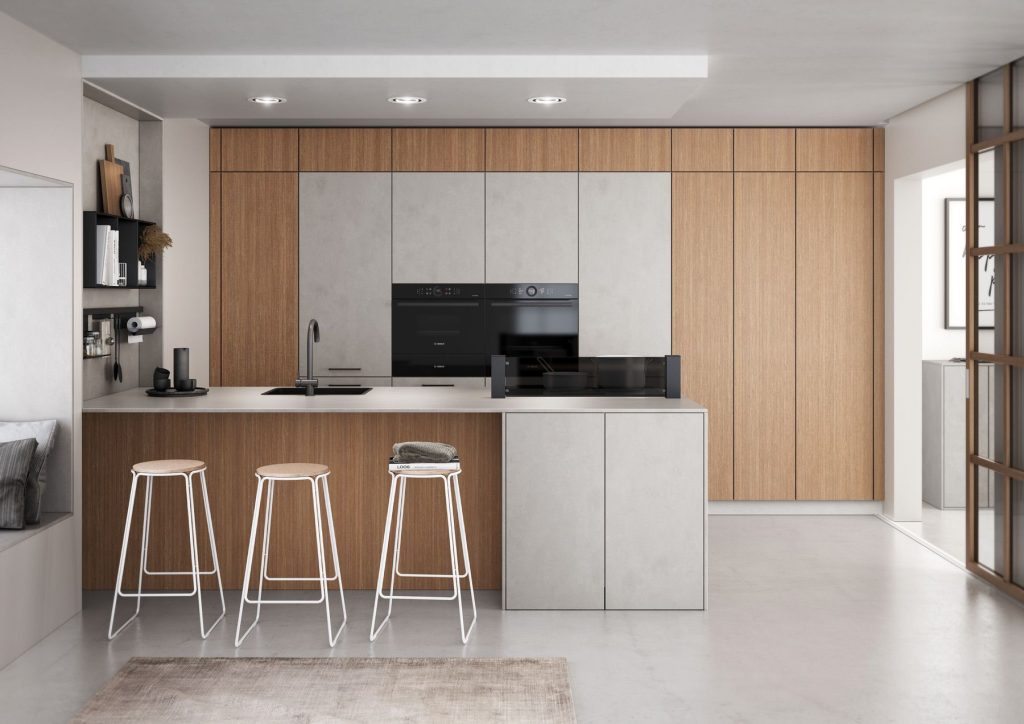 Discover Our Inspiring Kitchen Showroom Near Cheshire
Situated a brief drive away in The Wirral, our premier kitchen showroom near Cheshire is the ideal spot to gather ideas for your next kitchen project. We warmly welcome you to savour a comforting cup of tea while leisurely browsing our extensive range. At Rowe Interiors, we're of the conviction that experiencing the quality of our kitchen selections in person is a crucial step in your design journey. When you tour our showroom, you'll truly be able to grasp the essence of the diverse styles and materials, with our approachable team on hand to address any questions. As you view our displays, you'll deepen your insight into the potential of your dream design.
Interact With Our Lifelike Kitchen Displays
In our mission to offer an authentic representation of our expertise, each display in our kitchen showroom near Cheshire is meticulously curated to depict a realistic kitchen setting. These setups integrate both stylish and pragmatic features, like unique statement bars and corner larder compartments. You'll gain a comprehensive perspective on how each thoughtfully selected piece can bring a personal touch to your kitchen, whether it's a standard cupboard or a lavish accessory. Our dedicated team will guide you through the many options, helping you visualise the kitchen you've always wanted.
Cutting-Edge Kitchen Appliances
Beyond our expansive range of German and British kitchens, our kitchen showroom near Cheshire is also home to a remarkable collection of premium kitchen appliances. This includes esteemed brands like AEG and Neff. Within our displays, you'll find these appliances seamlessly integrated, ranging from advanced induction hobs to versatile microwaves and coffee makers. Many of these appliances are set up for live showcases, letting you experience their wide range of capabilities up close. For sink necessities, we also present renowned brands such as Franke, 1810, and Blanco, further enhanced by the Quooker tap system, known for its instant boiling water.
Tailored Cheshire Kitchen Design Service
We invite you to book a free design consultation at our kitchen showroom near Cheshire to begin the path to your dream kitchen! To kick off, we simply need a basic floor plan, serving as the foundation for your bespoke kitchen design.
Our adept Cheshire kitchen designers will delve into every facet of your envisioned kitchen, from your style and material inclinations to your colour preferences and any unique additions you'd like. Whether you have a clear vision or are still gathering inspiration, our knowledgeable team knows the right questions to ask, ensuring a design that encapsulates all your needs. Our unwavering goal is to sculpt a kitchen that marries beauty with utility, flawlessly aligning with your lifestyle and preferences.
Skilled Kitchen Installation Services
At Rowe Interiors, we provide an all-encompassing kitchen fitting service, promising a smooth renovation of your kitchen area from start to finish. Our seasoned team includes trustworthy tradespeople known for their unwavering skill and artistry. Equipped with a deep understanding of our products and a professional approach, they assure a smooth kitchen installation. We foster a cooperative atmosphere where every participant is clued-up on their respective roles and consistently informed on the project's progress, ensuring efficiency of the installation.
Contact Rowe Interiors Today

Eager to begin planning your ideal kitchen? With our expertise and a deep understanding of effective kitchen layouts, we're perfectly positioned to bring your kitchen dreams to life. We warmly invite you to our kitchen showroom near Cheshire, where our amiable team will guide you through our inspiring kitchen showcases. Reach out to Rowe Interiors to book your complimentary design consultation today!