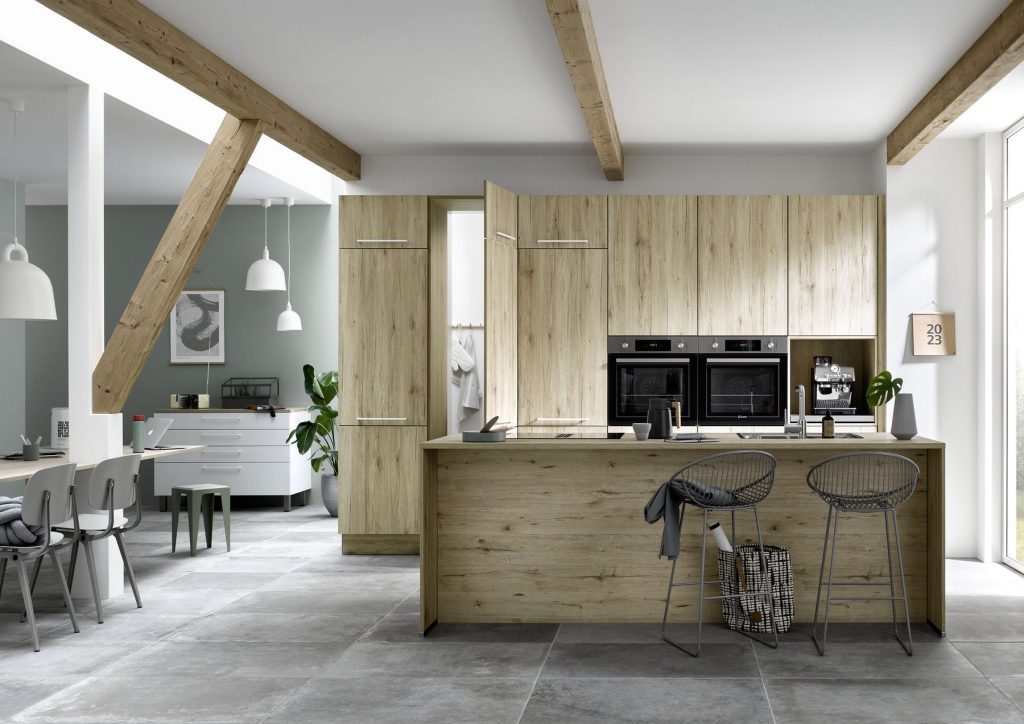 Luxury British and German Kitchens in Christleton
Are you in need of a kitchen showroom near Christleton to bring your ideal kitchen to life? Look no further than Rowe Fitted Interiors. With us, you'll encounter experienced specialists in bespoke kitchen and furniture design, serving Christleton, The Wirral, Cheshire, and surrounding areas. Our expertise lies in creating unique kitchen spaces, each meticulously adapted to your personal taste. Whether you're drawn to the timeless charm of British styles or the contemporary look of German kitchens, our goal is to offer unmatched excellence, style, and client care. Combining design beauty with practicality, we fashion interiors that meet your needs in both appearance and utility.
Why Choose a German Kitchen in Christleton?
German kitchens are famed for their superior workmanship, attention to detail, and sophisticated design principles, guaranteeing unparalleled quality and a kitchen that truly stands the test of time. Recognised for their expert engineering, these kitchens effortlessly blend durable design with modern and striking aesthetics. A German kitchen will add a luxurious feel to your home, often incorporating cutting-edge appliances and smart storage innovations that elevate both your space and everyday activities. German kitchens aren't just a trend; they are a lasting statement in your Christleton home.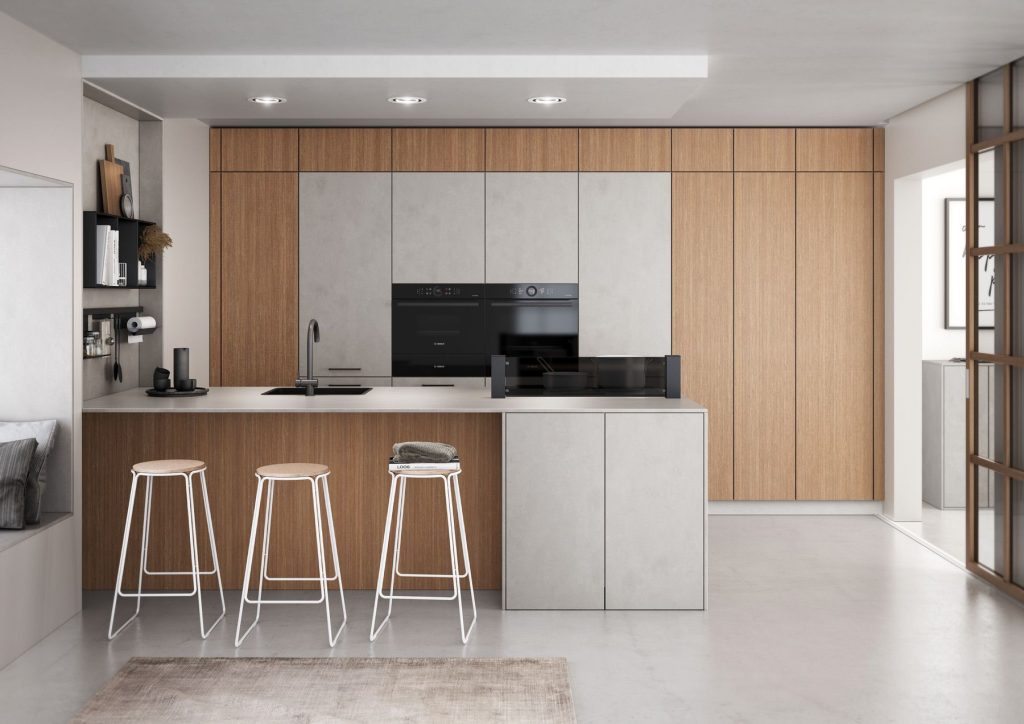 Bauformat German Kitchens in Christleton
Renowned as a top-tier German kitchen brand, Bauformat consistently garners admiration for its superior engineering and innovative kitchen designs. Accommodating a diverse range of preferences and requirements, Bauformat stands out with its contemporary kitchen collections marked by sleek, uncluttered surfaces, state-of-the-art appliances, and fashionable features like handleless cabinetry and integrated lighting systems. Our kitchen showroom near Christleton displays the beautiful aesthetics and flawless finishes of Bauformat kitchens, presenting a variety of designs and colours that will undoubtedly captivate your imagination. 
Alku British Kitchens
Alku is celebrated as a distinguished name in the UK kitchen market, commended for its flexible design choices, tailored craftsmanship, and cost-effective pricing. Their range spans a vast array of styles, from the timeless charm of in-frame kitchens to the contemporary elegance of matt doors. Alku distinguishes itself through its unwavering focus on personalisation; catering to unique sizes and even presenting a tailored colour-matching service for those that desire a specific shade. Innovative features like corner larder units and slide door systems, not typically seen in British kitchen ranges, highlight their dedication to creativity. Each Alku kitchen we fit seamlessly merges style, functionality, and attainable luxury.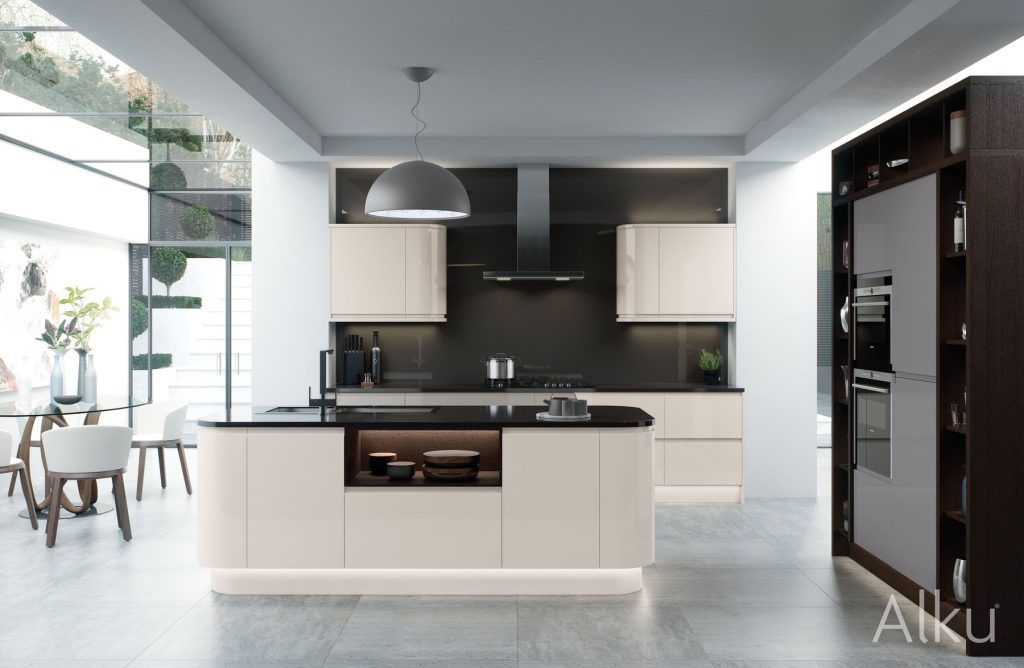 Explore Our Inspiring Kitchen Showroom Near Christleton
We invite you to visit our expansive kitchen showroom near Christleton, where you'll be welcomed with a cup of tea as you take your time browsing our diverse displays. At Rowe Interiors, we emphasise tailoring experiences to echo individual tastes. Thus, a personal tour of our kitchen showroom near Christleton is highly encouraged. This visit will offer you comprehensive insight into what we can do to transform your kitchen space. Experiencing our opulent designs up close, feeling the quality of our materials, and evaluating the utility of our fixtures will give you an overview our expertise. 
Immersive Showroom Displays
Aiming to spark your imagination about what Rowe can craft for your home, each display in our kitchen showroom near Christleton is meticulously curated to reflect a genuine kitchen setting. We display both the cutting-edge and the functional, integrating statement bars and ingeniously designed corner larder units. From conventional cabinets to luxury accessories, you'll discover how every selected piece can shape a kitchen that genuinely reflects your style. Our experienced design experts are on hand to guide you through the different of choices for your ideal kitchen and to address any queries you might have.
State-of-the-Art Appliances at Our Kitchen Showroom Near Christleton
Beyond our expansive range of furniture, Rowe Interiors offers a handpicked assortment of quality kitchen appliances at our kitchen showroom near Christleton. We take pride in showcasing esteemed brands like AEG and Neff. As a Neff Masterpartner, we have access to the complete Neff product range. Visit us to witness the excellence of these appliances firsthand — from cutting-edge induction hobs to versatile microwaves and coffee machines, all flawlessly integrated into our kitchen displays. Certain appliances can even be demonstrated in action for your convenience. Additionally, our collection includes sinks and taps from brands like Franke, 1810, and Blanco, complemented by the revolutionary Quooker tap system offering instant boiling water. 
Tailored Christleton Kitchen Design
Your dream kitchen journey begins with a no-obligation design consultation at our upscale kitchen showroom near Christleton! We encourage you to schedule a session with us, where all we require to get started is a basic blueprint of your space, laying the groundwork to create your optimal design.
At this stage, our Christleton kitchen design experts will delve into the details of your dream space — from your desired layout, materials and colours to any specific facets or appliances you want to incorporate. Whether you approach us with a clear vision or you're beginning from the ground up, our adept team knows the right questions to ask, ensuring a comprehensive project plan is drawn up. We encourage you to remain open to fresh ideas, allowing us to craft the perfect kitchen that resonates with both your environment and daily habits.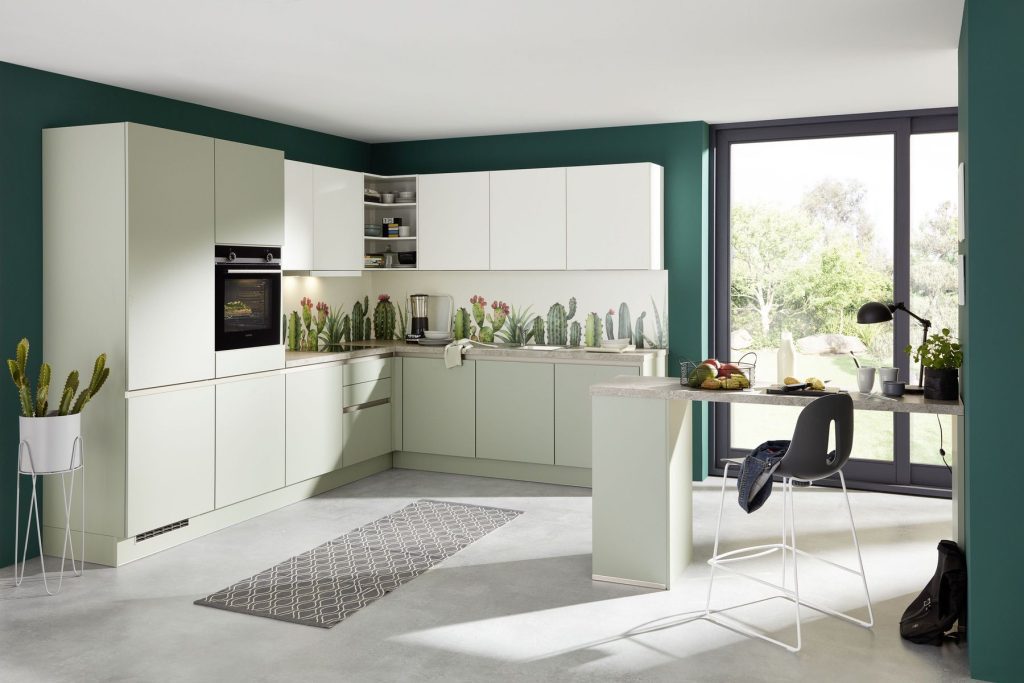 Expert Kitchen Installation
At Rowe Interiors, we offer a comprehensive installation service, ensuring a smooth and hassle-free kitchen renovation. Our kitchen installation team comprises seasoned experts, handpicked for their unwavering reliability and superior craftsmanship. Rest assured, their extensive product knowledge and skills in fitting ensures a seamless experience. We've additionally fostered a collaborative environment wherein each member is aware of their individual roles and stays updated on the project's progress, thereby refining the entire installation process.
Contact Rowe Interiors Today!

If you're keen to kickstart the creation of your perfect kitchen, reach out to us at Rowe Interiors! Equipped with years of practical experience and a profound understanding of modern designs, we stand ready to bring your dream kitchen to life. We eagerly await your visit to our kitchen showroom near Christleton. Here, our dedicated team will guide you through our captivating kitchen displays, assisting you in finding a kitchen design that aligns seamlessly with your style, requirements, and budget.